What is south of Monemvasia? Whoever hasn't been a lot around Peloponnese  will answer "there is just chaos" or perhaps "there is just Elafonisos".
However, the last "foot" of Peloponnese hides incredible surprises for whoever is willing to spend three of their days exploring it. 

So let's explore it, in a three days route that crosses 176 kilometers in total, passing through secret villages, idyllic paths, fossilized forests, caves of millions of years, ancient cities sunken in the silence of the sea and everlasting light houses that light legendary capes.
We start from Monemvasia 

But you can't compare Monemvasia to any other place in Greece. It's simple as that. 

12 absolutely Monemvasian experiences you must live
¦
¦
¦

 15.5 kilometers

 24 minutes of driving
¦
¦
¦


1st stop: Agios Fokas
Our route is constantly moving alongside the sea, enjoying the amazing view to the ultimate blue, until it reaches the sandy beach of Agios Fokas- if it is summer when you visit, we hope you'll get your swimsuit with you because this is one of the nicest beaches in the entire eastern coast of Peloponnese.
The church of Agios Fokas is built on a tiny island, which is connected to land by a small bridge. 
The lovers of hiking will be thrilled to know that here starts a fully signed path that after 4 hours of coastal route ends up in Kastania's Cave. The rest of you don't worry, we can get there by car too- but through a less fascinating route. 
¦
¦
¦

 24.5 kilometers

 44 minutes of driving
¦
¦
¦


2nd stop: Kastania's Cave
 From Agios Fokas we drive south, making a stop at Mesochori to climb the Byzantine Castle of Agia Paraskevi (also known as Vatika Castle). Built on a 130 meters hill, the castle with the impressive towers enjoys an amazing view to the Laconian Gulf.
From here, we will continue our route for about 10 more kilometers to the Cave of Kastania.
One of the most impressive caves in Greece, the Kastania's Cave counts its years into millions (three millions, to be precise) and spreads in 1.500 square meters.
It is crossed by a visitable route of 500 meters, which passes by stalactite waterfalls and by strange stalagmites that let your imagination run wild- an elephant shape here, a mushroom shape there and so on… The interesting tours that take place in the cave are the best way to learn all the things you don't know about caves- and some more.


¦
¦
¦

 30.5 kilometers

 58 minutes of driving
¦
¦
¦


3rd stop: Velanidia village
From the cave we follow the road to the deep south of Peloponnese, passing by the Paradisi and Lachi villages- great stop for coffee or food.
Eleven kilometers from Lachi, Velanidia is a very special case of a village: It is an absolutely island landscape, with white houses, blue windows, tiled roofs and white painted cobbled alleys, which nests on the green side of the mountain, at the southern end of Mt. Parnonas.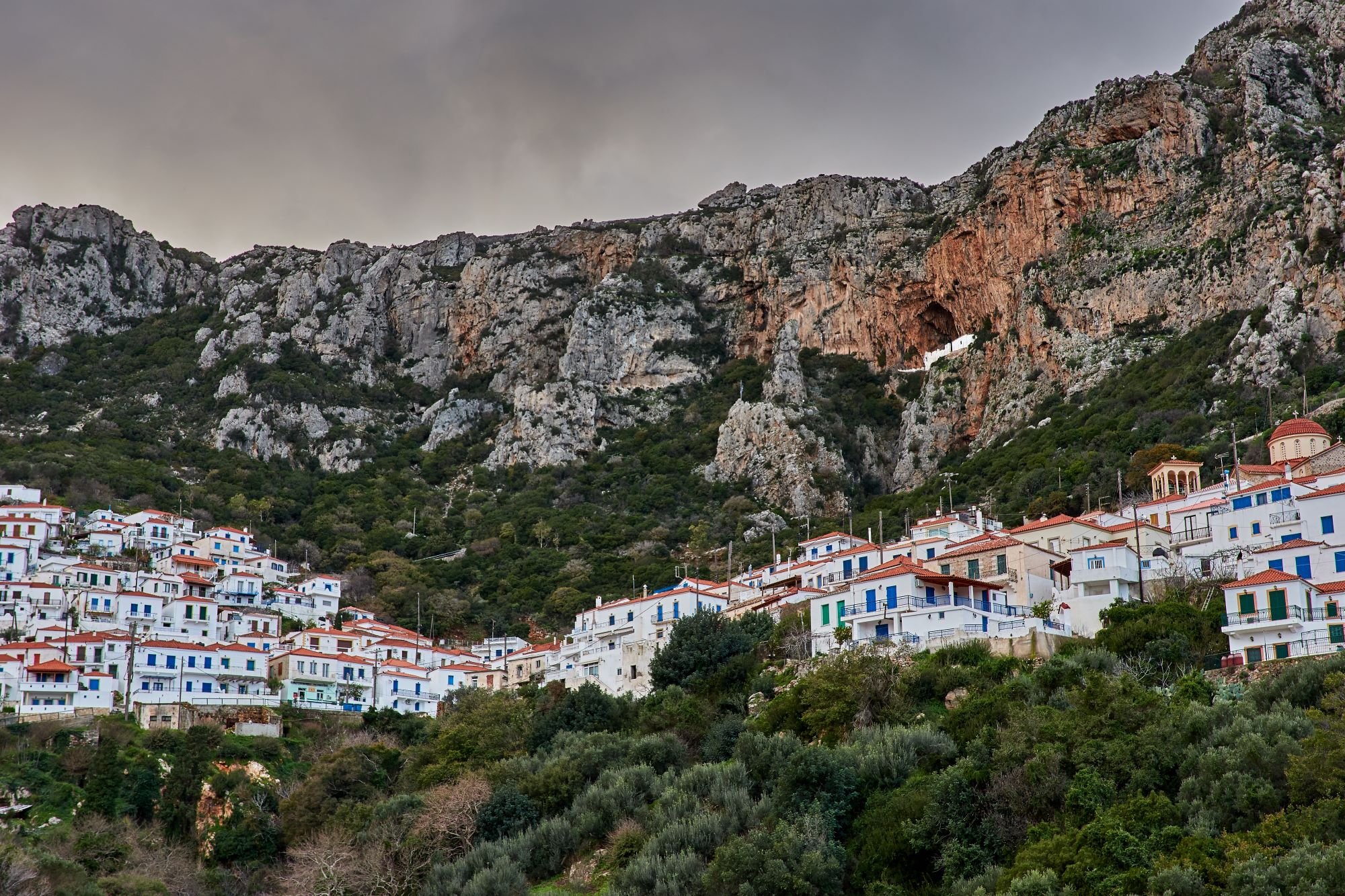 A few kilometers southern it will dive in the Myrtoo Sea, shaping the many-times-sang Cavo Maleas Cape.
As (we bet) you won't want to leave Velanidia, the first overnight stay of our trip will be here.
(*)The friends of hiking and light houses will definitely notice the signs at the village that point towards the legendary Light house of Cavo Maleas. It is an adventure, but if you are determined to do it, it is worth the trouble: The road is paved at the first two kilometers and then has about three more kilometers of dirt road, which ends up at the church of Agios Thomas of Maleas. Right next to the church starts a path that will lead you after 5.5 kilometers to the stone light house of the 19th century.    
¦
¦
¦

 20 kilometers

 42 minutes of driving
¦
¦
¦


4th stop: The Petrified Forest
To begin with, our route crosses another island-like village, called Vatika (as the entire region surrounding it is also called), and the climbed on the mountain too Agios Nicholaos village, which are perfect for a stop to drink your first coffee of the day at the square.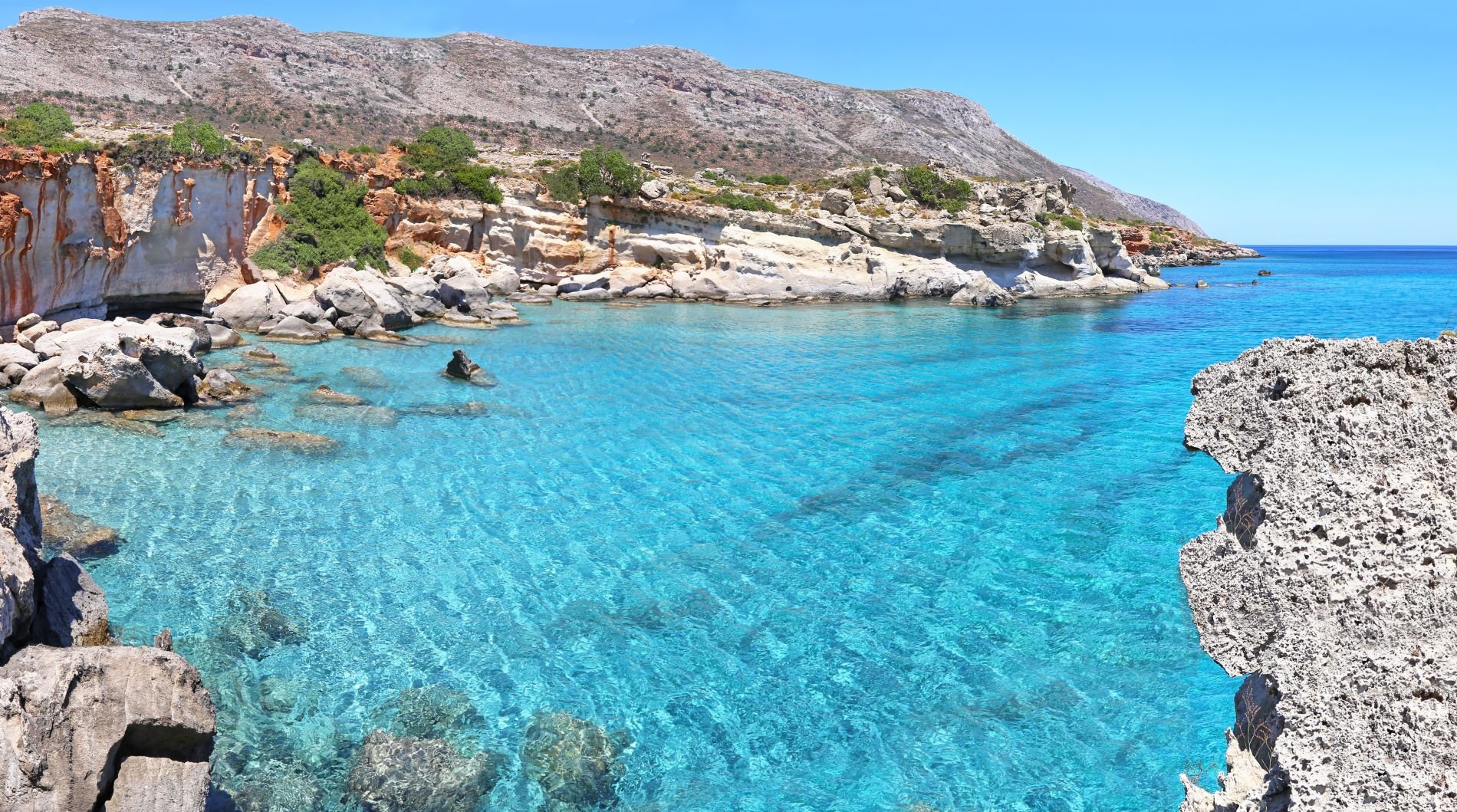 At the end of the route awaits us one more of the region's big surprises: The amazing fossilized palm tree forest of Agios Nicholaos, a unique in Europe Geo-park of millions of years, next to Agia Marina beach.
During the summer free guided tours take place here that will explain to you how an entire palm tree forest can turn, after millions of years, into a line of silent limestone formations, which consist this mysterious, yet fantastic, fossilized forest.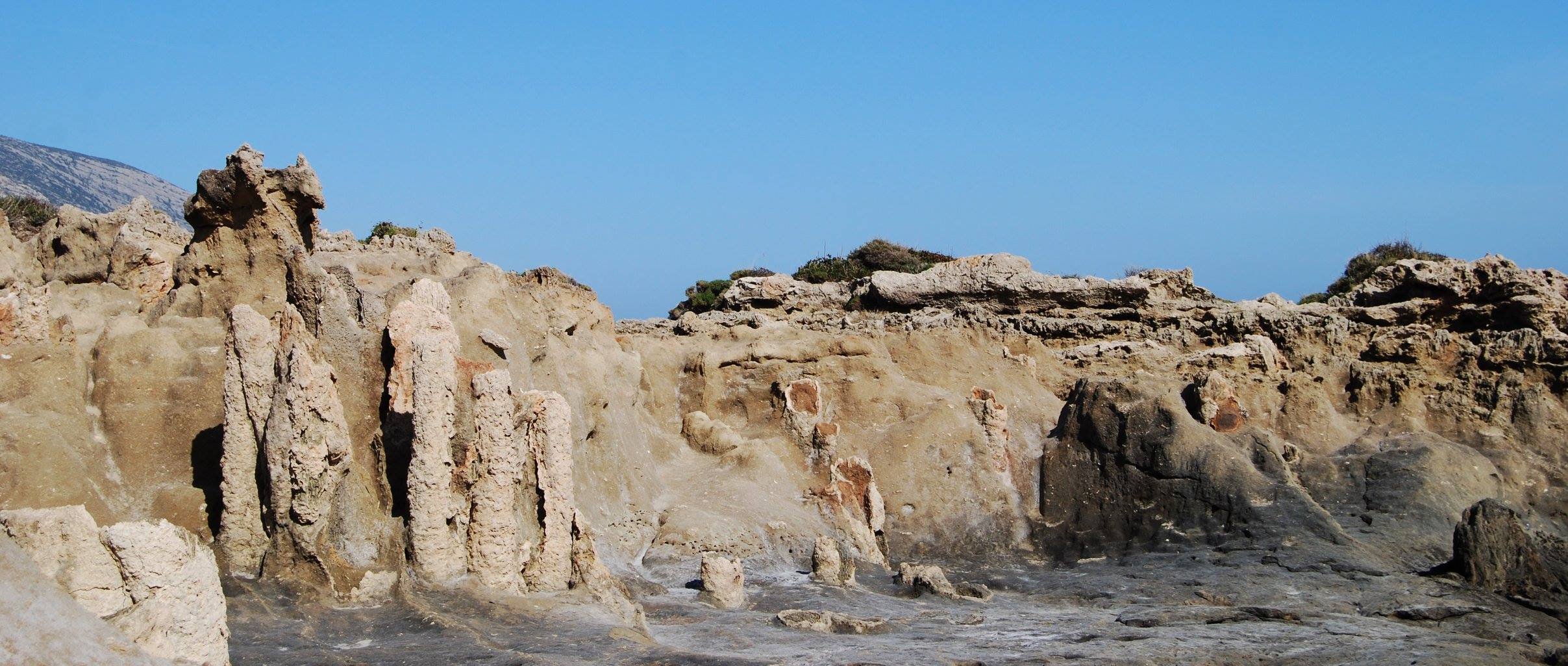 Three kilometers after the fossilized forest, towards east, the dirt road stops and from there starts the path of Agia Eirene, which leads after two and a half kilometers (or about an hour later) of a beautiful coastal route to Agios Georgios of Cavo Maleas, as the old sailors used to call the southest tip of this "foot" of the Peloponnese.
You should take water with you and keep in mind that although the route is tiring, with uphill in some points, it is also spectacular, with an incomparable view to the sea.
¦
¦
¦

 29.3 kilometers

 53 minutes
¦
¦
¦


5th stop: Pavlopetri
How many centuries do you think our ancient History counts? Pavlopetri village has been already inhabited since 2.800 B.C. and this is approximately a thousand years before Agamemnon goes to war with Troy, and two and a half thousand years before Pericles was born. 
Pavlopetri is also the most ancient submerged city in the world and the first city that has a 3D reconstruction with digital systems and became a very interesting documentary on BBC .
Some of the ancient city's ruins, which has a regular design with streets, two-storey buildings and a cemetery, are visible from the surface of the sea, 3-4 meters from the beach-which, we should point out, has something from the white sand and the exotic waters of Elafonisos that stands right across it.
Almost next to Pavlopetri and its beach, there is the Stroggili Lagoon that hosts many rare species of migratory birds, as well as one of the rarest species of cedar tree. Less than a kilometer away, the village called Viglafia offers an abundance of choices in food and accommodation, rightfully earning our second overnight stay to our small trip.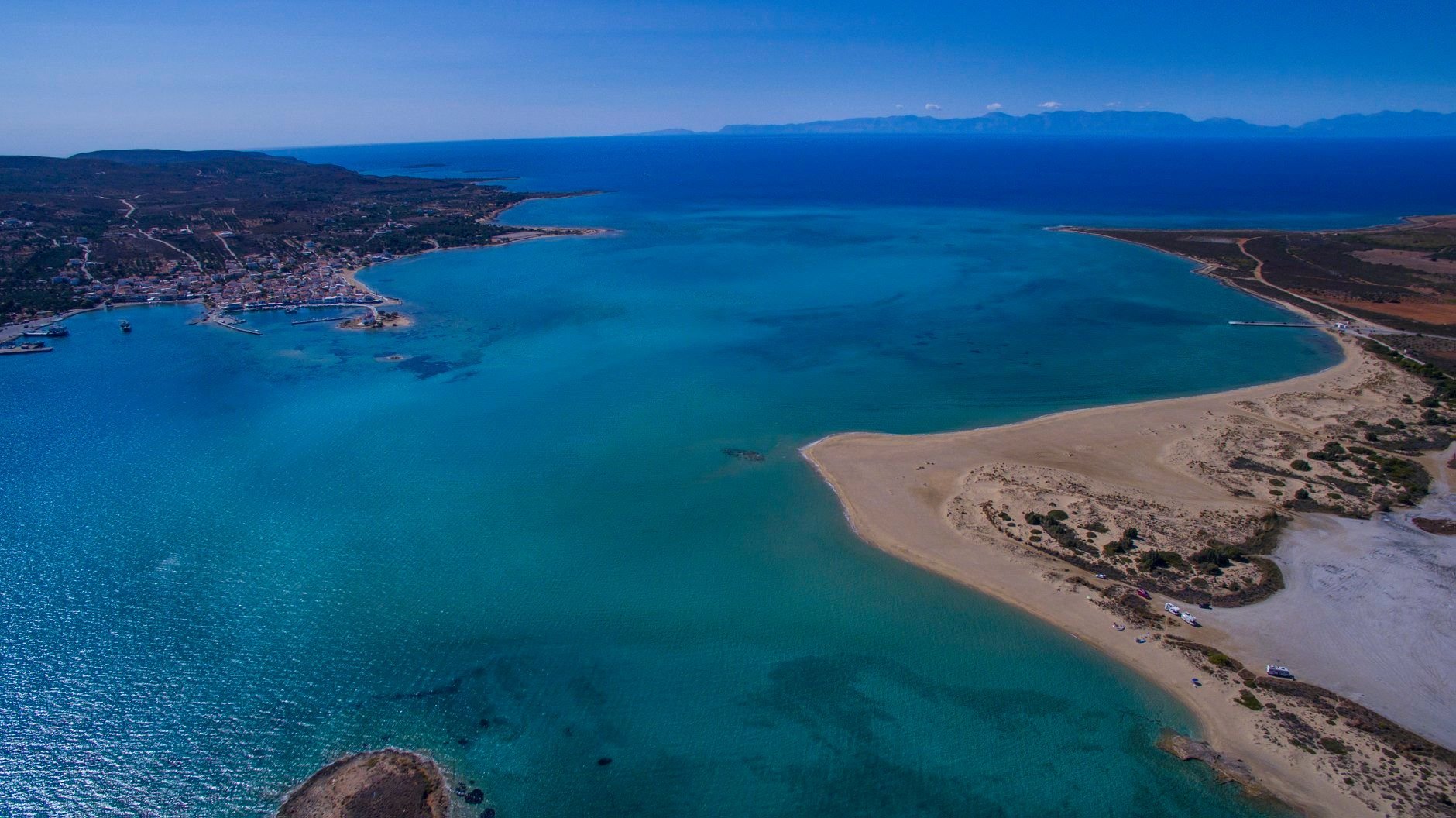 ¦
¦
¦

 33 kilometers

 38 minutes of driving  
¦
¦
¦
6th stop: Talanta and the gorge of Balli
This time we'll drive north and cross three more of Vatika's villages.
The Agioi Apostoloi village with the endless olive groves, the small Pantanassa with the byzantine temple of the 12th  century, which is dedicated to Agios Athanasios and definitely worth a stop, and Elika village with the panoramic view to the Laconian Gulf.
Our route ends up at the beautiful mountainous village of Talanta, once known for its eleven watermills, one of whom has been restored and it is open for visit- especially if you travel with children, you should not miss the visit.
The experience will excite them. From Talanta start paths too that cross the idyllic, green gorge of Balli, which is filled with plane, walnut, myrtle trees and running waters, and it is ideal for spring hiking in nature.
¦
¦
¦

 31.9 kilometers

 38 minutes of walking
¦
¦
¦


7th stop: Gerakas
The one and only fjord we have in Greece, the amazing harbor of Gerakas is the perfect ending to our short trip to the secret beauties of Laconia.
A windless harbor, stone, white-painted houses with blue windows and red tiles, two or three ouzo taverns that spread their tables by the sea, a cement deck for diving like we used to dive when we were kids, and some boats… not swaying, since the waters here are almost still.
This is the magical picture of Gerakas, more details of which we have here  Gerakas.


All the route along with the stops on the map here  :    https://tinyurl.com/y2ufm6u8